COMPANY OVERVIEW
LandPro Equipment is the largest authorized dealer of John Deere products in the Northeast. They specialize in agriculture, lawn and garden and light industrial equipment.
THE CHALLENGE
Creating an online application for ease of use when customizing LandPro equipment.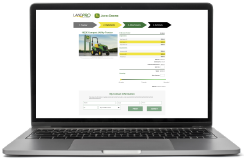 LandPro Equipment tried a variety of tools to manage their inventory and give customers a personalized online experience. However, they fell short of what was needed for both the dealers to manage and the customers to use. Many of the tools that were available had limits to the specific products a dealer could show and pricing varied by region – including their specials and promotions.
Our approach started with extensive research into readily available tools and how they work. This research drove what was used as a base for a first draft wireframe design comp.
We needed to account for two different user experiences: the dealer managing the models and parts information and pricing, as well as the customer building out their tractor as we built out the back-end and front-end (respectively). Each configuration can be managed to fit the dealer's specific regional needs as well as their brand, which in turn makes a better experience for their customer.
Project Overview
TIMELINE
Implementation: 3 months
TECHNOLOGY
Laravel Web Framework
Amazon Web Services (AWS) – Cloud Web Hosting
SERVICES
Agile Delivery
Business Analysis
UI/UX
Front-end Development
Back-end Development

THE RESULTS
We successfully built a dynamic online tool that exceeded customer expectations.
New LandPro Configurator "Deere Builder" features included:
Redesigned workflow to increase efficient data entry
Enhanced online quote capability
Support for additional product metadata
Increase flexibility and configuration options
Advanced image support for all equipment components
Customer Expectations Exceeded
LandPro's goal was to get 500 site visitors in the first month of launch but they exceeded that with 2500 site visitors. The configurator is constantly being updated by Solü's Solution Team with new features to ultimately enhance end-user experience for both the dealer and the customer.